Lund's Fisheries has been a trusted name in seafood for over 60 years. Our tight-knit team of seafood industry experts are dedicated to providing the highest quality catch from the sea.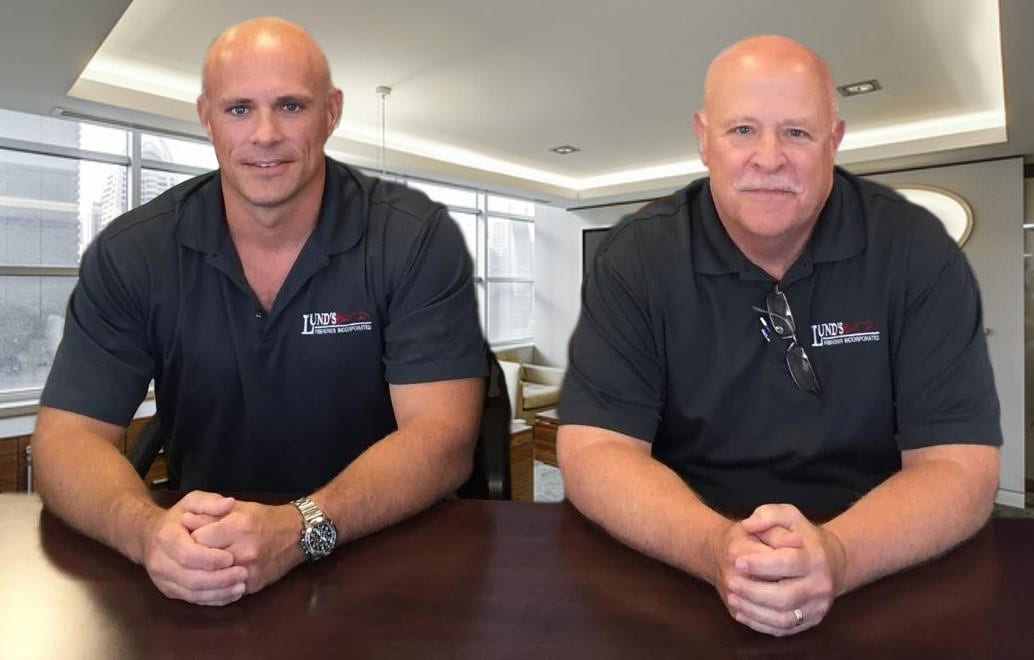 Jeff Reichle: Owner/Chairman of the Board
(pictured, at right)
Wayne Reichle: Owner/President
(pictured, at left)
Matthew Viall: Chief Financial Officer
David Gray: Vice President of Added Value Division
Greg DiDomenico: Fisheries Management Specialist
Mark Fratiello: Director of Sales and Marketing
Federico Sehringer, Joshua Farinella: Directors of Compliance/Quality Assurance
Melissa Ulrich-Doughty: Director of Human Resources
Jeff Kaelin: Director of Sustainability and Government Affairs
Gene Taormina: General Manager of Cumberland Freezers
Here's just a snapshot of the Lund's Team.
Compliance
Inventory Team
Kathy Checchio

Nathan Babore

Kathy Brooks

Victor Del Rio

Jessica Greenwood

Darlene Walsh
Brianna Davids
Cumberland Support
Maria Ballesteros

Dee Denby

Kristen Franklin

Wendy Rutledge

Kimberly Valez Santana
Production Team
Andy Babore

Bud Brooks

Jorge Carmona

John Hruska
Maintenance Team
Scott Snyder
Dave Novsak
Andrew Hunt
Customer Support
Accounting Team
Brad Altman
Jenette Dougherty
Danielle Harris
Erin Jefferis
Matthew Jefferis
Rita Robertson
Noah Siciensky
Sales Team
Andy Babore
Heidi Todd
Jeff Miller
Rick Marino
Mike Wallace
John Fee
James Grauel
Jeff Cofer
Shawn DeBose
Imports & Exports
Andrew Maddalena
Jackie Marshall
Nick Canuso
Transportation Team
Dale Gerhard
Johnny Olaniyan
Jerry Verrico
Purchasing

Don't be shy. Let us know if you have questions.
Don't be shy. Let us know if you have questions.